Set in the first century on the edges of the Roman Empire and the Jesus movement, Blood of a Stone is a sweeping story of murder, betrayal, love, and the search for redemption.
Faced with the brutality of slavery, Demetrios confronts his master and flees by the blood of a stone. Determined to escape his past, he struggles to create a new life and a new identity with his friend and fellow escaped slave, Elazar.
However, freedom h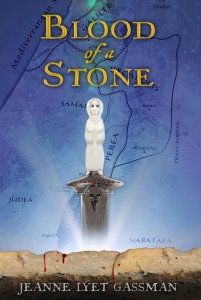 as its price. Secrets cannot remain secret forever. A chance for love is lost. Elazar betrays Demetrios to a so-called prophet named Jesus of Nazareth. Fearing the Roman authorities and Jesus, Demetrios risks everything to silence those who would enslave him again. His quest leads him to startling discoveries and dire choices. Demetrios must answer the question we all ask: Can we ever be free of our past?
Read an excerpt from BLOOD OF A STONE
Press and Reviews for BLOOD OF A STONE